Thank you for your interest in the 14th Annual BC Association for Behaviour Analysis (BC-ABA). Registration is now closed.
Please click the "Events" tab for more information.
Dates: April 8th-May 15th, 2022 On-Demand 
April 8th 9:00 am – 3:30 pm Keynote Speakers and DEI Panel
Location: Online 
The 14th Annual BC Association for Behaviour Analysis (BC-ABA) Conference will be held online from April 8th to May 15th, 2022. The event will commence with keynote presentations offered live on Friday, April 8th.
The first keynote address will be provided by Dr. Ellie Kazemi (CSUN & BHCOE)), who will discuss developing a culture of care in supervision for behaviour analysts. Our second keynote address will be provided by Dr. Jomella Watson-Thompson (University of Kansas), who will describe a behavioural community approach to advancing community change through multisector collaboration.
BC-ABA's own Diversity, Equity and Inclusion Committee will conclude the program with a live, interactive panel describing the experiences of behaviour analysts.
Following the live presentations will be 5 weeks of on-demand access to recorded presentations created by colleagues in British Columbia. Presentation formats include traditional papers and mini-seminars and span a range of relevant topics to the research and practice of behaviour analysis.
This event is being held on a variety of traditional territories as we join in a virtual capacity.  We wanted to highlight the importance of the lands, which we each call home. From across British Columbia and beyond, we acknowledge the ancestral and unceded territory of all the Inuit, Métis, and First Nations people who are the traditional keepers of the land in so-called Canada. We do this to reaffirm our commitment and responsibility in improving relationships, and our own understanding of local Indigenous peoples and their cultures, to move forward in allyship.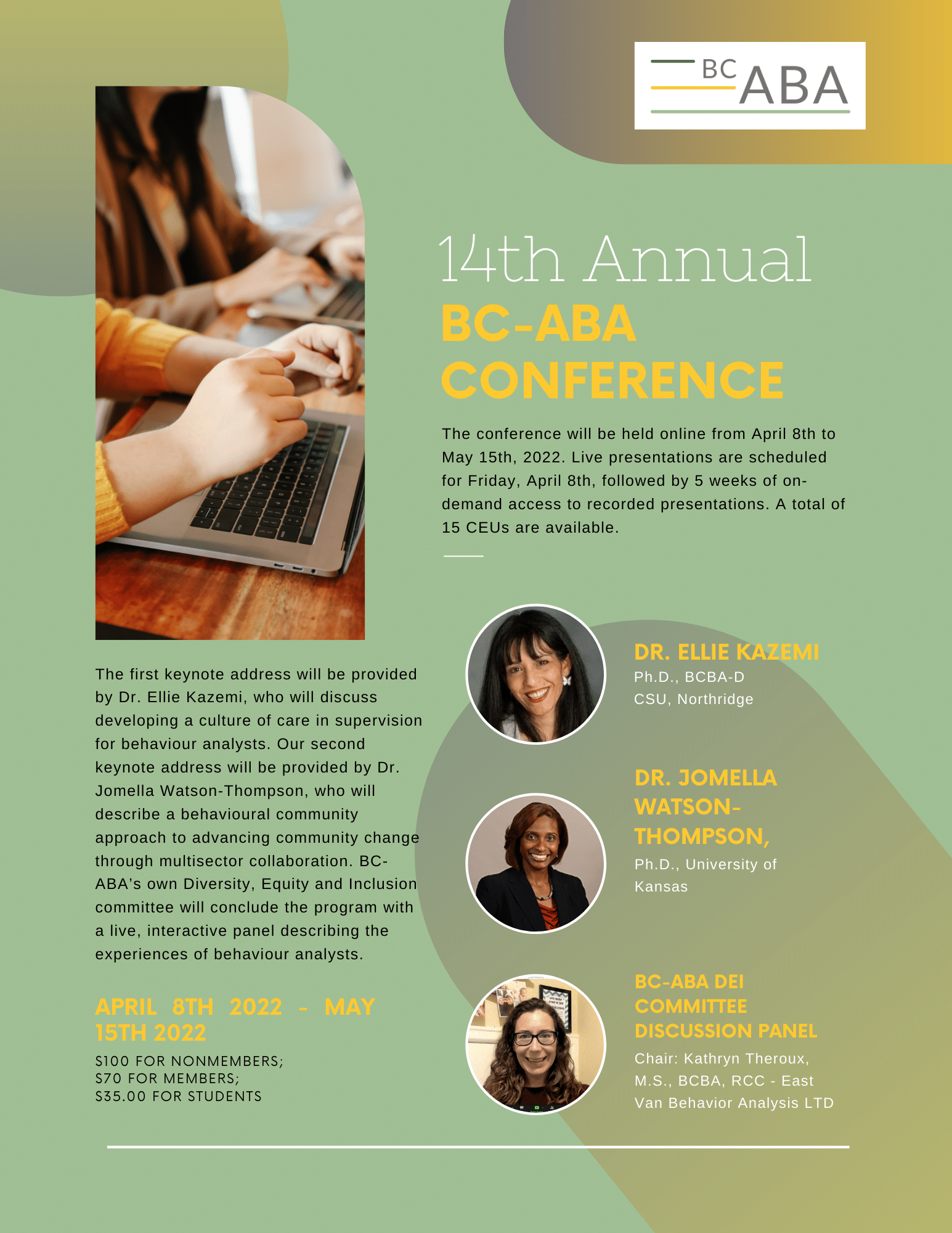 Agenda
April 8th, 2022
9:00 am – 3:30 pm PST
9:00 am: CEU Check In
9:15 am: Opening remarks, Land acknowledgment, Housekeeping
9:30 am – 11:00 am: Dr. Ellie Kazemi, Ph.D., BCBA-D (CSU, Northridge): Developing a Culture of Care in Supervision for Behaviour Analysts
11:15 am – 12:45 pm: Dr. Jomella Watson-Thompson, Ph.D. (University of Kansas): Using a Behavioral Community Approach for Social Validation Through Multisector Collaboration
12:45 pm – 1:30 pm: Lunch Break
1:30 pm – 3:30 pm: DEI Committee Discussion Panel: Diversity, Equity, and Inclusion: Experiences of Behaviour Analysts
Chair: Kathryn Theroux, M.S., BCBA, RCC – East Van Behavior Analysis LTD
Panelists:
Preetinder Narang, Ph.D., BCBA – Surrey School District
Hilary McClinton, M.Ed., BCBA – Coastal Ridge Consulting
Lauren Keating, M.Ed., BCBA – Delta School District
Ben Reiman, M.A., BCBA – CBI Consultants
Jasmine Dhaliwal, M.Sc. – CBI Consultants
Jemana Elsharkawi, M.Ed., BCBA, CCTS-I – Salish Sea Behaviour Consulting
Karla Suarez, M.S., BCBA – Private Practice
3:30 pm: CEU Checkout
April 8th – May 15th, 2022, On-Demand Presentations
Lead Author: Heidi St. Pierre
Neurodiverse-affirming ASD Disclosure: Research and Evidence-based Suggestions for Practice
Lead Author: Pat Mirenda
Miss Manners' Guide to Collaborative School Consultation
Lead Author: Maria Sample
Ethical and Clinical Considerations for Service Delivery Planning in a Changing Landscape
Lead Author: Monica Millar
PBS and CBT for a Child with Autism and Anxiety
Lead Author: Tina Gunn
A Transition Plan Process for Complex Learners with Severe Problem Behavior
Lead Author: Landa Fox
Use of Preference Assessments in the Selection of Sex Toys
Lead Author: Thea Brain
Perspectives from Autistic Adults on Peer-Mediated Interventions: Survey Findings
Access the Conference Program Here
CEU: 15 CEUs available in total, CEU package $30
1.5 Supervision
6 Ethics CEUs
7.5 Learning CEUs
Cost: $100 non-members; $70 members; $34.99 for students.
Please note: Those who are experiencing hardship are welcome to choose to pay the student price.